INTRODUCTION

Hey there!
If we haven't met before, my name is Cassie Massey and I'm the founder of Moms Choose Joy, a blog I created to help busy women choose joy by inspiring and empowering them to organize their families, plan their lives, live their values, and care for themselves.
With two young kids at home, a husband who works, a thriving law practice, a growing blog, family church activities, volunteer commitments, and more, I get how the busyness of life can quickly turn into overwhelm and chaos.
My life is so full that it often feels like it's overflowing.
Can you relate?
She Lives Her Inspired Life - Life Planning
I decided to become a life coach partly because I was exploring a career change to pursue my passion of helping women, but mainly to coach myself out of overwhelm.

Over time I've learned that there is a solution to conquering overwhelm. But it's not a quick-fix.
It begins with prioritizing self-care, putting in place a daily practice of gratitude, setting and achieving personal growth goals, and learning how to effectively manage time with a time management system.
And that's where the 90-Day Personal Growth Goal and Life Planner comes into play.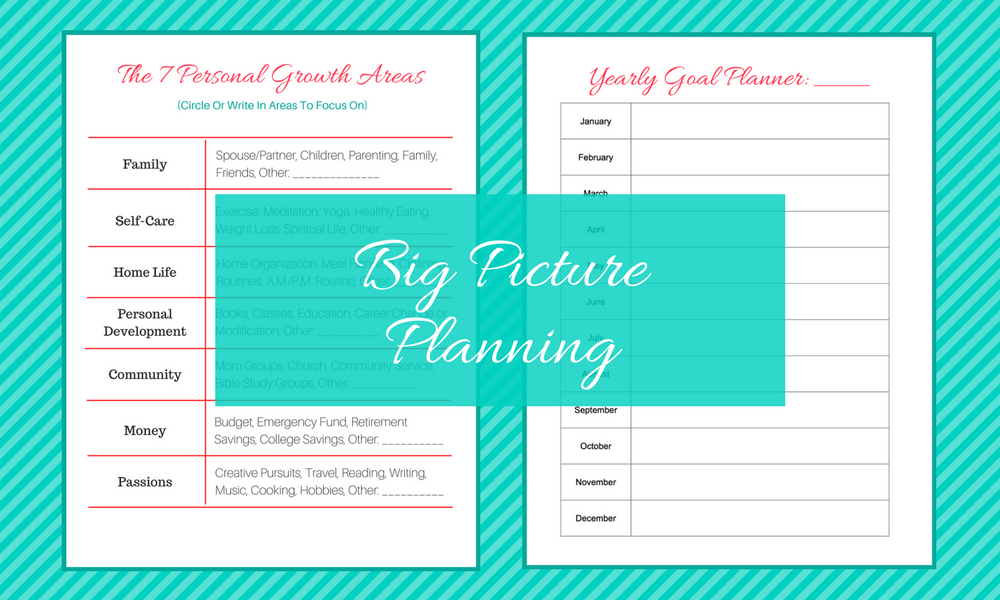 The 90-Day Personal Growth Goal And Life Planner
With this 13-week goal-achieving life planner, you'll create a 13-week plan for personal growth.
You'll begin by taking your big goals, your dreams for your life, and breaking them down step-by-step into actionable tasks that you can manage on a daily basis.
The goal-achieving worksheets will help you to plan out each goal and to develop the healthy habits and routines necessary to carry out your action plan.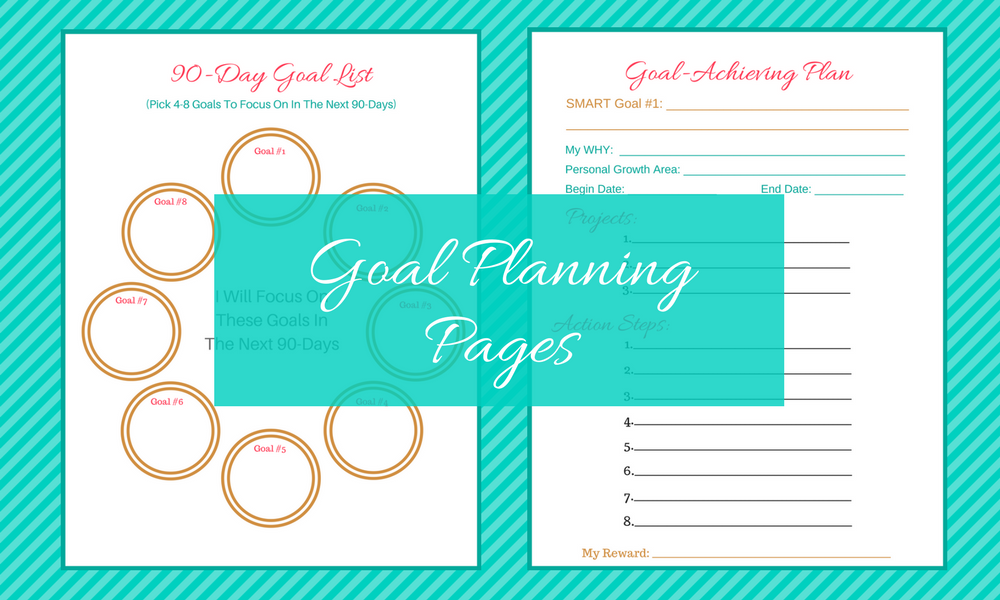 Why Is This A "90-Day" Planner Instead of a "365-Day" Planner?

The goal-achieving experts have shown that when we set goals for the entire year, it's too hard to visualize them. And, that means it's less likely that we will ever achieve them.
90-Days has been shown to be the sweet spot for goal-achieving success. The reason for this is that you can easily envision what you can get done in a 90-Day period.
When you can clearly envision your future success, you are more likely to be successful.
That doesn't mean that you'll get through all of your big goals in 90-Days.
But it does mean that you'll make substantial progress in that time frame.
And if you talk to the most accomplished, confident, and intentional women, they'll tell you that planning out 90-Days at a time is the key to their success.
This is not your ordinary planner. This is a 90-day goal-achieving life planning system.
It also happens to be a printable planning system.
What that means is that for one small investment, you will be able to print out a new 90-day planning system every 13 weeks to use over and over again.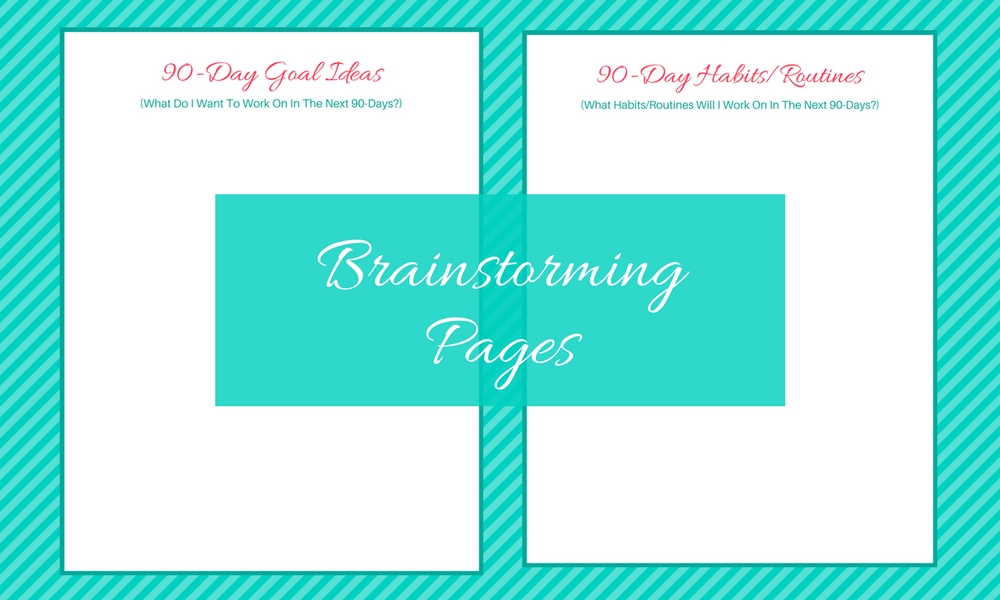 A 280-Page Printable Planner + Video Training Course
This 280-page planner is divided into 7 sections + includes a training video for each section:
an introduction section to plan your and your family's morning and evening routines, your personal mission statement, and your personal growth affirmations for the next 90 days.
a goal planning section to brainstorm personal growth goals and habits/routines for the next 90 days, and write out your 90-day goal-achieving plan
a monthly review and planning section to reflect on the last month and plan for the next month
a weekly review and planning section to guide you through your weekly planning review
a daily inspiration planner and calendar section with a daily planner for each of the 90-days
a 90-day planning section that will help you plan out a 90-day personal planning day to review and reflect on the last 90 days and plan ahead for the next quarter
a notes, inspiration, and ideas section to capture your best ideas and inspiration
(*NOTE: I created a NEW and additional simplified all-in-one planner that includes everything you need for 90-days of planning. It includes a monthly review page, monthly budget planning pages, weekly planning pages, weekly menu planning, and a simplified daily planner with all 7 days included in a new, simplified, two-page layout. The simplified planner is only 148-pages for those that prefer a thinner planner. BOTH are included!)
You can print it your planner at home and then have your planner bound at your local office supply store for about $5.
She Has A Plan - The Monthly, Weekly, and Daily Review System
Those that continually achieve their goals have a little secret.
That secret is that they have a system for regularly reviewing and revising their goal progress.
With a review system, you can determine what's working and what's not working, make adjustments as needed, and reward yourself for your successes.
A review system is built into this goal and life planner. You will reflect on your goal progress quarterly, monthly, weekly, and daily.
She Gets Things Done - Monthly Planning Pages
Each month, you'll review your goal progress, set habits to track using a habit tracking chart, and reflect on the prior month. There's a monthly calendar to use, too.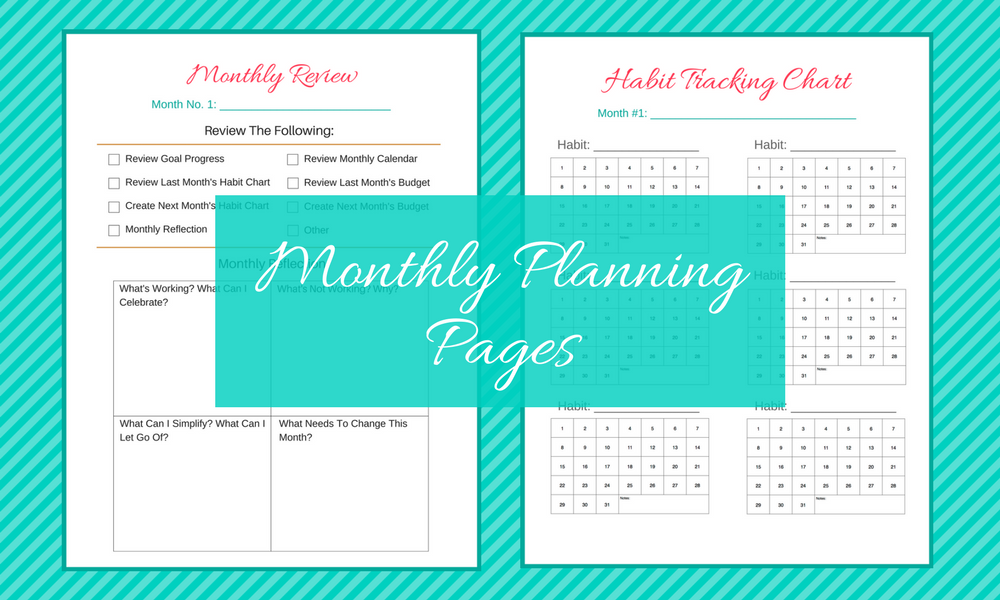 She Lives Her Life With Intention - Weekly Planning Pages
Then, each week, you'll use the weekly planner pages to plan out your week by scheduling action steps, self-care activities, and completing a weekly check-in to assess you emotional, physical, and spiritual health, as well as your ability to focus.
But real progress begins one step at a time. Don't forget that "success is the sum of small efforts, repeated day in and day out." -Robert Collier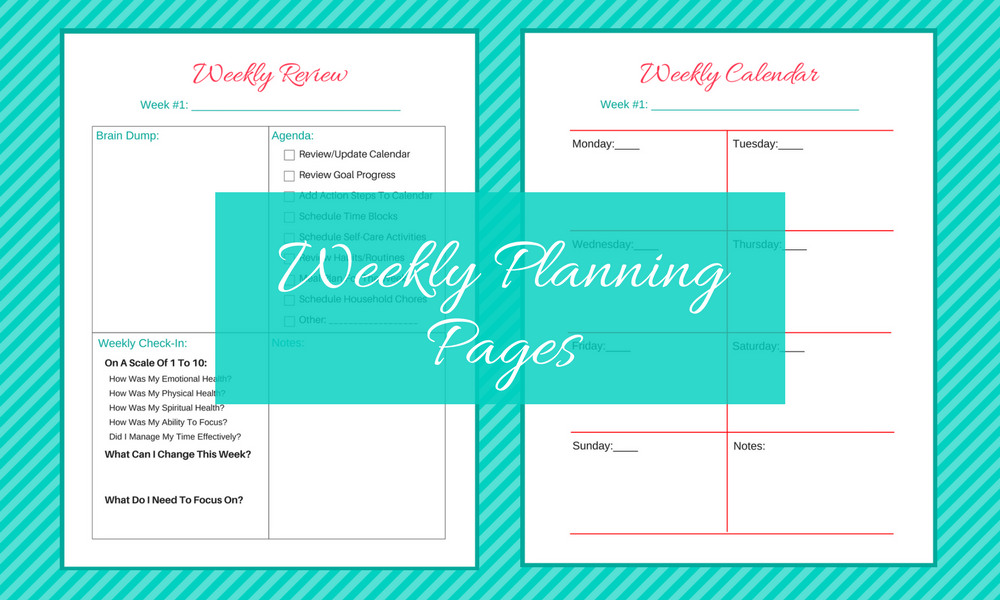 She Plans Her Days - Daily Inspiration Planner and Calendar
This is where the magic happens.
"You'll never change your life until you change something you do daily. The secret of your success is found in your daily routine." -John C. Maxwell
With the Daily Inspiration Planner and Calendar, you'll create the daily routine you need to move closer to where you want to be.
You'll not only plan out your goal action steps for each day, but there's a daily planner to create a prioritized daily to-do list, and sections for meal planning, mind and body care, gratitude and prayer, and a morning and evening mood and reflection check-in.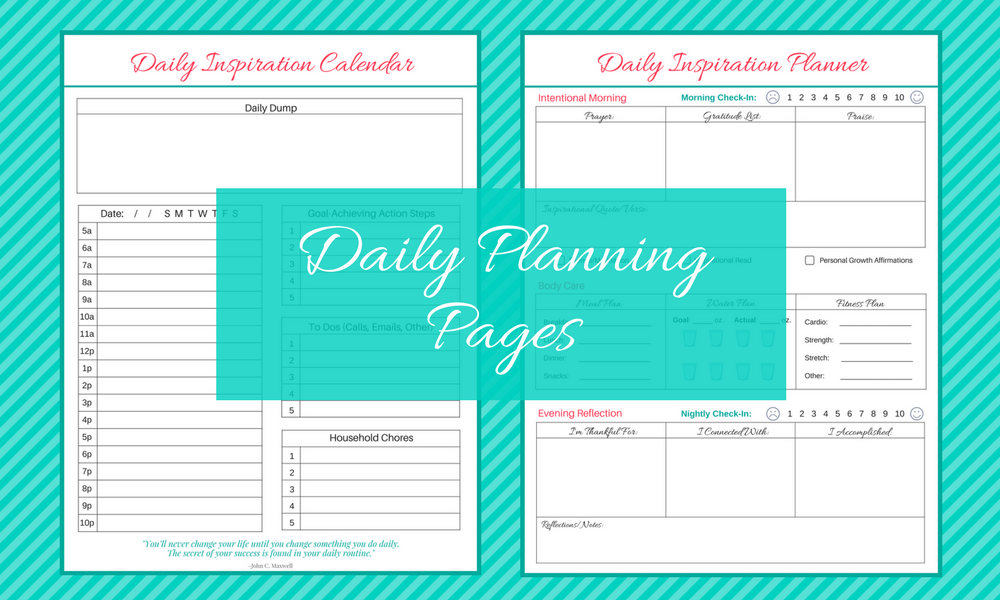 She Reflects On Her Life - The 90-Day Personal Planning Day
At the end of a 90-Day period, the goal planner includes an agenda and worksheets to guide you in planning out the next 90-Days. This 90-Day Personal Planning Day is an essential part of an effective goal-achieving process.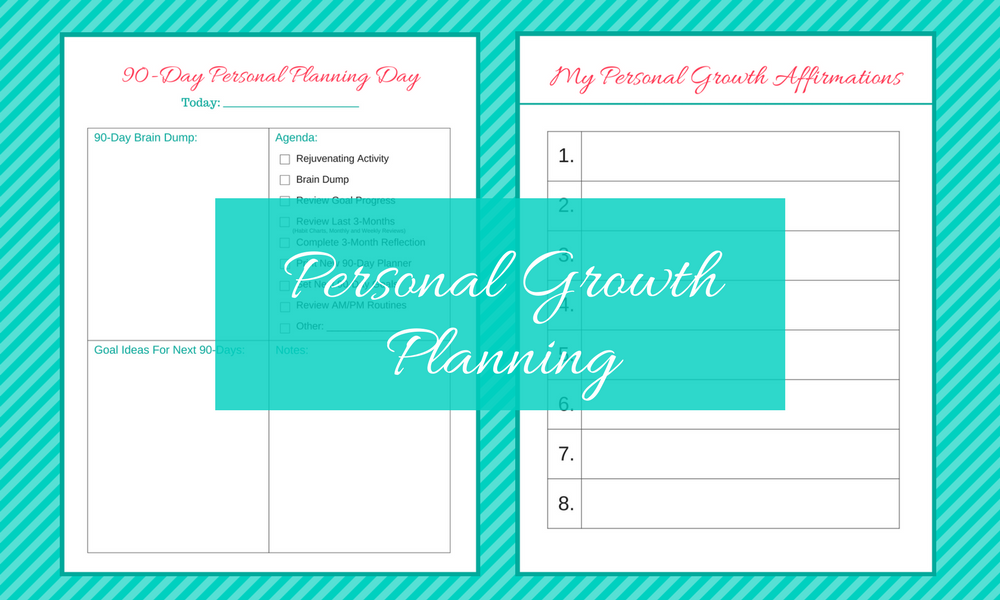 If you're ready to eliminate overwhelm and chaos in your life, and start living the life you deserve, this planner is for you.
So, what are you waiting for?
Grab your 90-Day Personal Growth Goal and Life Planning Sytem and start living your best life today!
I can't wait to see what you'll achieve!
With Love and Joy,
Cassie
P.S. Don't forget, with the 90-Day Personal Growth Goal and Life Planner you can print out a new planner every 13-weeks and plan your 90-day goals and life events over and over again. All for one small investment!
P.P.S. Did I mention that this planning system comes with these 4 amazing bonuses?
your choice of 5 binder covers (5 for each color variation);
a monthly budget planner (3-months);
a meal planning system (13-weeks); and
a weekly household chore planning sheet