Complete the form below to subscribe and to be notified when the course reopens AND to receive a free printable on setting personal growth goals.
Are you ready to rock 2017?

If you want to make 2017 the year you actually achieve your goals, this course may be for you.
As a wife, a busy mom of two young boys, a small business owner of two businesses, and an active volunteer, I know that finding time to do anything other than what's required just to get through the day can sometimes feel impossible.
Maybe you feel that way, too?
Even though I've always been goal-oriented, I reached a saturation point in my life where I didn't think I had the time or money to do anything to improve myself. Plus, with young kids at home, I felt selfish for even thinking about myself.
When my emotional and physical health started to decline, I knew I needed to do something.
But I also knew that I wasn't able to do it alone.
I started by reading every book I could fit into my busy schedule about personal development, setting goals, and learning to live a happy life.

Then I tried to implement some of this advice. I started by waking up a little earlier to plan out my day, then I started planning out my week, and then my month, and finally my life.
But, you see, I had it all backwards when I started planning. I should have started planning with the end in mind.
It wasn't until I trained as a life coach, and learned effective strategies for setting goals, that I was able to see positive changes in my life.

The plan must begin with a big picture vision for what you want your life to look like.
When I began planning with that vision in mind, my life became more manageable, my emotional and physical health improved, my family was happier, and I started to pursue activities that I was passionate about, without all of the mom guilt.
But most importantly, I finally started to love my life again.
I want the same thing for you, too.
When I discovered that real change was possible, despite an overflowing schedule, I became passionate about teaching other women how to improve their lives.
I started my blog, Moms Choose Joy, with that goal in mind.

After hearing from countless women through my blog about how frustrated they are with not being able to get it all done, I decided to create this course to share my step-by-step system with you.
Now, this course isn't a course about getting it all done.
This is a course that will show you how to get the right things done.
This course will show you how to shift your mindset to focus on what matters most. Only then can you start creating an intentional plan based on your core values.

That's what creating a personal growth plan is all about.
What is a Personal Growth Life Plan?

A Personal Growth Life Plan is a goal setting system that will show you how to create a step-by-step goal-setting blueprint to finally achieve your goals based on what matters most to you.
This is a plan for life.
This course will guide you in crafting a life vision before moving on to planning personal growth goals for the year.
After all, "a goal without a plan is just a wish."
This 5-Phase Goal Achieving System will have you analyze the 7 Personal Growth Areas in your life to help you determine which goals to focus on in your life.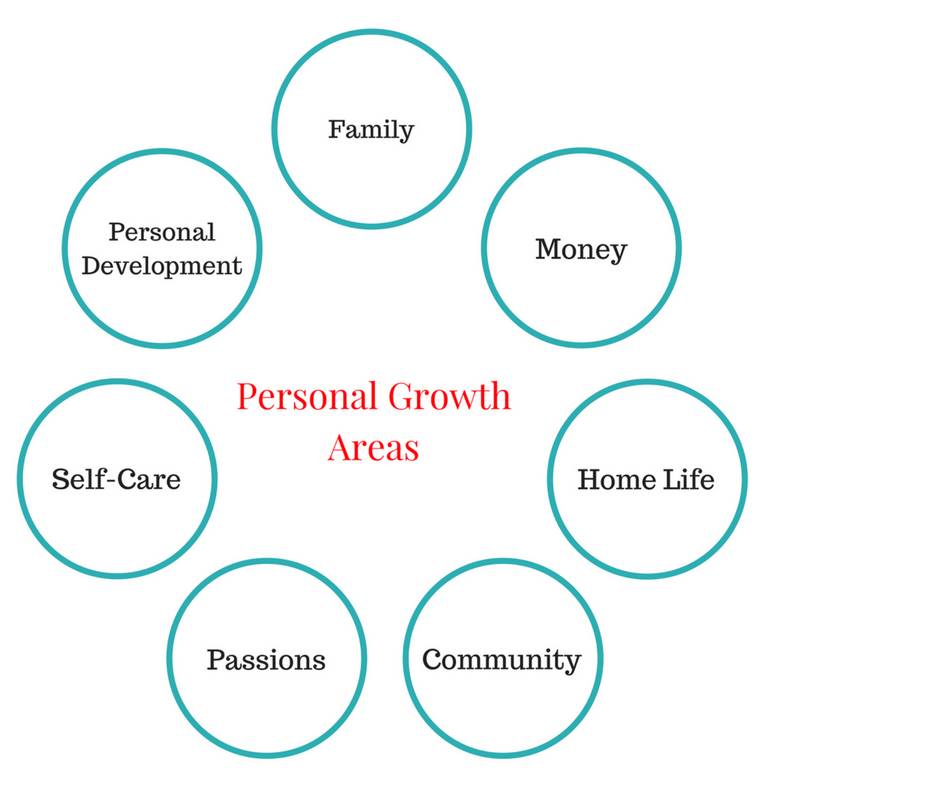 In this 7-Module Video and Workbook e-Course, I will teach you step-by-step how to create your personal growth plan.
But a plan is only as good as the paper it's written on.
So, I will also guide you in creating an effective implementation system for your plan, and I will show you how to track your progress throughout the year with a regular review system.
Here's what's included in the course:

7 modules, each with 3 video lectures, worksheets, and actionable steps to create a Personal Growth Plan, an implementation plan, and a review system to achieve your goals, realize your dreams, and begin living a life you love.

A course workbook containing all of the worksheets you'll need for each module

Lifetime access to the course so you can work at your own pace and repeat it as many times as you wish

3 Bonuses:

a tutorial on how to use Evernote for goal setting;

a habit tracking calendar; and

a daily self-monitoring tracking spreadsheet
Enrollment is open through April 10. Then won't open again until the end of 2017.
If you're ready to make this the year you achieve your goals, turn your dreams into reality, and finally live a life you love, I invite you to enroll TODAY.